Perfect Bliss Real Weddings
Every day we help you find the perfect suppliers for your big day and we always wonder afterwards how the big day went. That's why we decided to create "Perfect Bliss Real Weddings" telling the story of
couples that have starting planning at one of our wedding shows right through to how the big day went.
A Little Bit About Yourselves
Your Name: Joanne Gillen Your Age:38
Your Partners Name: Anthony Gillen Age:31
Both from Derry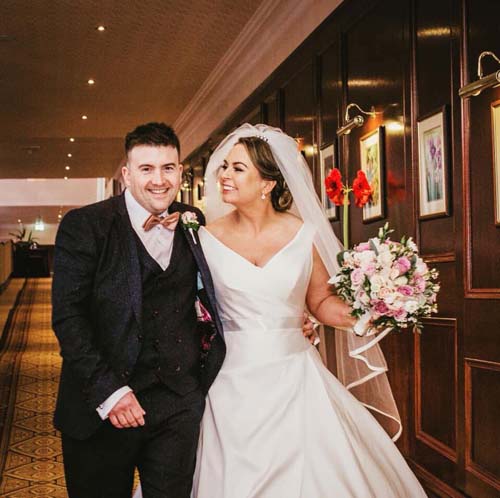 Now… Let's talk about your love story!
When did you first meet? 4 Years ago
HOW and WHEN did you meet?   Tell us about your first date too!
Like all good love stories, ours started through mutual friends on a drunken night out on a bar crawl through Derry lol. 
Tell us about your proposal! When, where, how?
Christmas eve, My sister in law had said she would do the Christmas day dinner so all she asked was for me to make a pot of homemade veg soup, so the day started well soup made by afternoon, hair done and we decided to visit the Everglades for carvery all in all a great day so arrived home and for some unknow reason I decided I'd give my soup another wee blast get the veg nice n soft, took my eye off it and burnt it (seriously who burns soup) so start going into a full panic its 5 o clock on xmas eve were am I going to get all the stuff to make soup. 
Anthony is completely at a loss over me losing my mind that xmas is ruined over this, long story short I found a shop with what I needed but the lovely hair is now ruined from the dash to the shop in the rain.
Come through the door completely discussed and annoyed to find Anthony under the Christmas tree with my beautiful ring.
We ended up going to celebrate with friends in the Blackbird bar in Derry and I got up at about 6am Christmas morning very hungover and on my wedding buzz to remake another pot of vegetable soup lol. 
What was the ring like/from? It's from Lunns and Anthony picked it himself and
didn't tell a soul other than my father who he asked permission from.
Now, how did you plan such a great wedding?
I use to be a vendor at Perfect Bliss and already knew who half my vendors would be, because I got married in January, I found that even though I only had a year to plan this was a great time of year to get good discounts and no problem with availability.
Wedding Date: 12th  January 2019
How many guests did you have at your wedding?
204
Why did you pick the venue(s) that you chose?
It was always going to be Harveys point, this is where we went on our first weekend away and we continue to visit least twice a year. 
What inspired your wedding décor?
I wanted clean cuts and not over fussy centre pieces.
Did you have a theme in mind?
Elegant and simple
What colours did you choose and how did you decide?
I kept changing my mind on this but when I got the bridesmaid dresses it all fell into place. 
Which part of your wedding did you want to WOW your guests?
We had a beautiful firework display from Pains fireworks based in Derry.
Tell us all about your flowers, the linens, the lighting, special tables, escort cards, everything!
The flowers were by John Paul Florist I told him a rough idea of what I had in mind and he worked away, he made the flower girls head pieces and a beautiful wreath that matched my bouquet for my mother's grave.
What was your absolute favourite part of the day?
Every part of it, I couldn't pick any one reason, I loved the morning time period spent with my bridesmaids and the hair and makeup girls the criac was great before everyone started landing. 
What was the biggest challenge you faced in planning your wedding?
Organising the rooms to family at the hotel.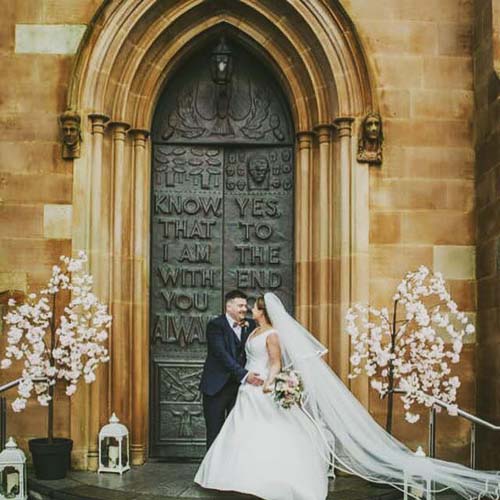 Just a few more things...
(Information listed below helps us know who to credit and also helps us notify each vendor when your wedding is posted so they can share it!)
Engagement & Wedding Photography: Catherine Mackenzie Photography.
Videography: Jason Mc Garrigle.
Wedding Consultant: Samantha from Harveys Point .Ceremony Venue: St columb's, Chapel Road Derry. Reception Venue: Harveys Point Donegal.
Officiant: Father Michael Canny.
Ceremony  Music: Steven O'  Carolyn & family.
Wedding Dress: Suzanne Nevile.
Shoes: Debenhams.
Bridesmaid Dress: ASOS.
Hair (Salon AND stylist name): Natalie at Roco.
Makeup (Salon AND stylist name):Kendra Hetherington at the Lab beauty collective.
Wedding Rings: Cooley's Jewellers.
Invitations & Stationery: Ryan Patrick Limavady. Flowers: John paul florist.
Room Décor: Simply Devine.
Photobooth:
Walled City Photo Booths.
DJ/Band/Musicians: The professionals. Cake/Sweets: Funky cakes.
Favours: Donation to Mc Millan.
Transportation:
Lisdale Signature Wedding Cars.
Honeymoon: TUI Waterloo Place.
Anyone else you'd like to mention? Elaine mc closkey – Saranna Design By Elaine Mc Closkey, Wedding Dress Alterations, Derry.
Last Question….
What is your best piece of advice for couples reading this?
Have the wedding you and your partner want, take on board people's advice and meaningful help but do not let anyone to deter you from the day you dream of.