Perfect Bliss Real Weddings
Every day we help you find the perfect suppliers for your big day and we always wonder afterwards how the big day went. That's why we decided to create "Perfect Bliss Real Weddings" telling the story of couples that have starting planning at one of our wedding shows right through to how the big day went.


A Little Bit About Yourselves
Your Name: Julie McNulty
Where are you from? Belfast
Your Partners Name: Ciarán McNulty
Where is He from? Derry

Now… Let's talk about your love story!
When did you first meet? April 2012
HOW and WHEN did you meet?
Tell us about your first date too!
Met in Perth, Australia in a backpackers whilst Ciarán was checking in to stay, we became friends at first as we lived together in the same room at the backpackers eating out, partying, drinks etc so there wasn't a first date as such as we already knew each other well, then became a couple after a few months. Soon moved into a house together in Perth then after a while we went travelling around Australia, together.. I then left oz as my visa expired so I went back to Ireland & left Ciarán in oz with plans to meet him in Canada 6 months later but a week later he landed back to Ireland to my Parents house in Belfast lol it was a week or 2 before Christmas, then a few months later we went off to Canada for more travelling together. After a year and a half of final travels we came home, saved up and bought our first home and now we are happily married.
Tell us about your proposal! When, where, how? Christmas Day 2015, our first Christmas in our new home, he planned it, I had no idea and he surprised me Christmas morning whilst I was standing in my pjs! It was crazy lol Christmas presents didn't even get opened til about 5pm over in my Mummy's house at dinner cos it was all about the engagement that day in the end haha
What was the ring like/from? White gold, solitaire – he chose it himself
Now, how did you plan such a great wedding? Decided we wanted an Autumn wedding and thought would be nice to have the colourful leaves in our wedding pics, we went to the Perfect Bliss Wedding show at the Culloden Estate and Spa in Jan 2016 and booked the date and venue there and then.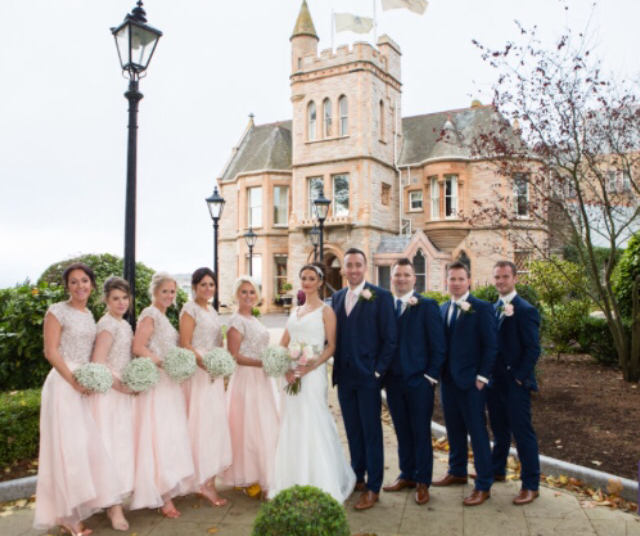 Wedding Date: 28/10/17
How many guests did you have at your wedding? 160
Why did you pick the venues that you chose?
The Culloden is stunning, the view, the grounds and the hotel itself, we just love it there
What inspired your wedding décor? Vintage style and simple, We didn't want to go over the top with décor as the venue was already beautiful, We didn't want to much. We did have a drinks reception and a caricature for our guests to pass the time whilst we got photos done which was a bit of craic
 Did you have a theme in mind? No real theme but we did have a vintage style suitcase with luggage tags as our wedding table plan which was pretty symbolic saying we met on our travels.
What colours did you choose and how did you decide?
Blush pink and Ivory. Pink is my favourite colour so I just had to include it on our day.. the boys were in Navy contemporary style suits, I had an ivory dress with lace detail and lots of beaded detail and embellishment at the back with silver accessories, I did not want a veil for me so instead had a bespoke statement Headpiece made.  The bridesmaids were in blush pink tops and skirts with rose gold shoes and jewellery. The flower girl was in ivory.
Which part of your wedding did you want to WOW your guests?
We felt the venue and surroundings did that for us, We just wanted our guests to enjoy everything and enjoy their day, the food was beautiful which we were really pleased about, everyone loved it in particular
Tell us all about your flowers, the linens, the lighting, special tables, escort cards, everything!
We had our wedding in the Stuart suite which already has the beautiful crystal chandeliers. My flowers were beautiful, I had pale pink vintage roses as they are my favourite flower and they were mixed in with some ivory flowers and seasonal berries and heather. I still have my flowers, my Mummy dried them for me so I can keep them forever. The bridesmaids and flower girl had bouquets of fresh Gypsophelia, the boys had pale pink roses for button holes and the top table arrangement and church flowers were a mix of the pink and ivory roses and Gypsophelia
I had the candelabras dressed in fresh Gypsophelia too they were so pretty. For my place cards, I had a calligrapher write each guests name on heart shaped card in rose gold then I had them clipped on to the guests wine glasses with a little wooden peg, I felt this was a wee bit different instead of just putting them on the table. The table linen was white but I had ivory lace bands put on the chairs. We had a guest book table with sweets, glow sticks for the night time disco and a few other treats.
What was your absolute favourite part of the day? Does your spouse have a different favourite? I loved getting ready that morning it was so exciting but went too fast, Ciarán said his fav part is when I came down the aisle lol
What was the biggest challenge you faced in planning your Wedding? There is too much choice available nowadays so We had to stay disciplined and not let ourselves go too mad or over the top with ideas, it was so hard to draw the line but we managed
Just a few more things...
Did you attend any wedding shows? Yes the Culloden Estate and Spa Wedding Show with Perfect Bliss Wedding Events

If you answered, "yes" above, where was the show and did you find it helpful?
Was great to see the venue and bridal suites
Did you book any suppliers from one of our shows? No, we wanted to research and take our time to think about what we wanted regarding finer details before jumping in too soon. It was great to just get a venue first.
Who were all of the wedding suppliers that made this magical day happen?
Engagement & Wedding Photography:  4-ever photos
Wedding Consultant: Did everything ourselves
Ceremony Venue: St Teresas Chruch, Belfast
Reception Venue: Culloden Estate and Spa
Ceremony Music: Amy McAllister Harp and singing
Wedding Dress: Naomis of Ballynahinch
Shoes: Jimmy Choo
Bridesmaid Dresses: Coast
Accessories: Swarovski Jewellery,Victoria Square  and Deborah K Design, Lisburn for my statement headpiece and Hugo Boss for his cuff links
Hair: Deborah McCarthy Hairdressing, Lisburn
Makeup: Emma McConville MUA
Wedding Rings: Joseph Rea
Men's Suits: Ludlow Menswear and Debenhams for the shoes
Flowers: Glens Florist, Glen Road, Belfast
Room Décor: Our own ideas & creations
DJ/Band/Musicians: The Front Band and DJ set
Other Entertainment: Amy McAllister for drinks reception also and John Farrelly, Caricature
Cake/Sweets: Jennys Cakes, Bangor
Favours: Scratch cards
Transportation: David Andrews
Honeymoon: American Holidays
Last Question….
What is your best piece of advice for couples reading this?
Have your wedding as early in the day as possible cos it will be the fastest day of your life and don't sweat the small stuff, you won't even remember about it on the day