Every day we help you find the perfect suppliers for your big day and we always wonder afterwards how the big day went. That's why we decided to create "Perfect Bliss Real Weddings" telling the story of couples that have starting planning at one of our wedding shows right through to how the big day went. For our first feature we begin with Sharlene & Gary's Big Day, which happened in September 2018.
This Love Story began 13 years ago, across the bar, literally. Sharlene and Gary met when Sharlene was on a night out with her friends in her local bar in Eglinton and Gary was behind the bar.  Once they got chatting it grew from there and the rest was history!
It Was Christmas 2017 when Gary finally popped the question. With Sharlene's gorgeous ring under their Christmas tree. Probably one of the nicest gifts a girl could receive on Christmas day, A platinum set cluster with a centre cut in a 4 claw setting with surrounding diamond sewt bezel and diamond set shoulders from Lunns in Derry City.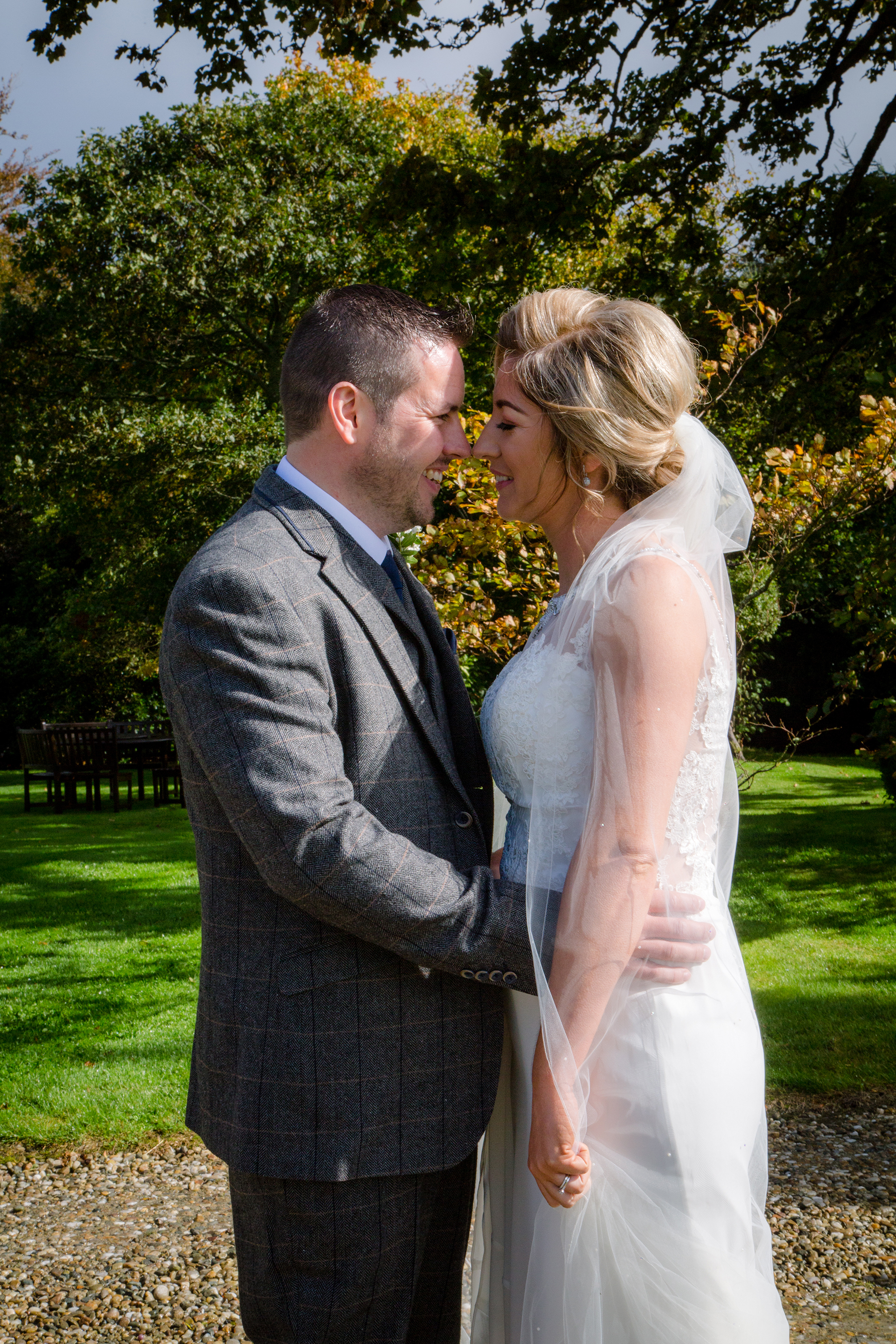 It wasn't long before the newly engaged couple began their planning attending all of the local wedding shows organised by Perfect Bliss.
"I had the upper hand as I help my Aunt out at the Wedding Shows she organises across the Hastings Hotel Group and Shows that her partner organises in Derry and Donegal. I attended each and every one of them"
Sharlene & Gary booked each of their wedding suppliers at the shows they attended for their big day at the Red Door Country House, Co Donegal
Both being lovers of American Country music they chose a Rustic theme for the special day with hints of gold throughout their décor when keeping everything very simple.
When we asked what their favourite part of the day they both said: "Everything was perfect from start to finish so we really could not pinpoint one particular part."
Engagement & Wedding Photography: Jacqui from Eyecon Photography
Videography: Logie Bear Productions
Wedding Consultant 
Ceremony Venue:The Red Door, Fahan Co Donegal
Reception Venue:  The Red Door, Fahan Co Donegal
Officiant: Mr Brian Barr
Ceremony Music: Achorda featuring Catherine Rose Hamilton and Zolene Maybury
Wedding Dress: Ultimate Dresses in Dungiven (Sharelene's Aunt Geraldine bought Sharlene's Wedding Gown and Veil as part of her Wedding Gift.
Bridesmaid Dresses: Ultimate Dresses in Dungiven
Hair : Ann from Syenna Hair, Pump Street, Derry
Makeup : Syenna Hair and Beauty, Pump Street, Derry
Wedding Rings: Lunn's Jewellers, Derry
Mens Suits: Ultimate Menswear in Dungiven
Invitations & Stationery: I Do Wedding Invitations
Flowers: John Paul Florist
Room Décor: Ultimate Touches in Dungiven 
DJ/Band/Musicians: Sensation Wedding Band
Other Entertainment (if applicable):
Cake/Sweets: Devine Cakes
Transportation: My Grandfather's 1950's Ford Prefect
Honeymoon (travel agency if one was used): 10 Day Eastern Caribbean Cruise
Music: Siamsa Gael Dance Troupe.
A special mention to David from Angel Doves who travelled all the way from Dromore, Co Down to let off 3 White Doves at my family home in memory of my Mother, my Grandmother and my Cousin Rory.
Last Question….
What is your best piece of advice for couples reading this? 
"Best piece of advice we could offer other couples is to not to stress out. We planned our Wedding Day in less than six months. A visit to as many Wedding Shows as possible is a must and remember one thing, 'this is your day, do it your way"